Earlier this month my friend the
Duke of Earle
made a post about global warming. I have been thinking about this topic ever since. Being an engineer by training,
and having a little too much time on my hands,
I have been searching far and wide to get my hands on all the data I could to prove whether this phenomenon is or isn't real. I now have irrefutable (and tangible) evidence that global warming is, in fact, real. See below.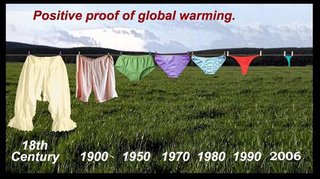 The data speaks for itself. Q.E.D.
Badaboom Badabing...